The step by step guide for landing yoga teacher jobs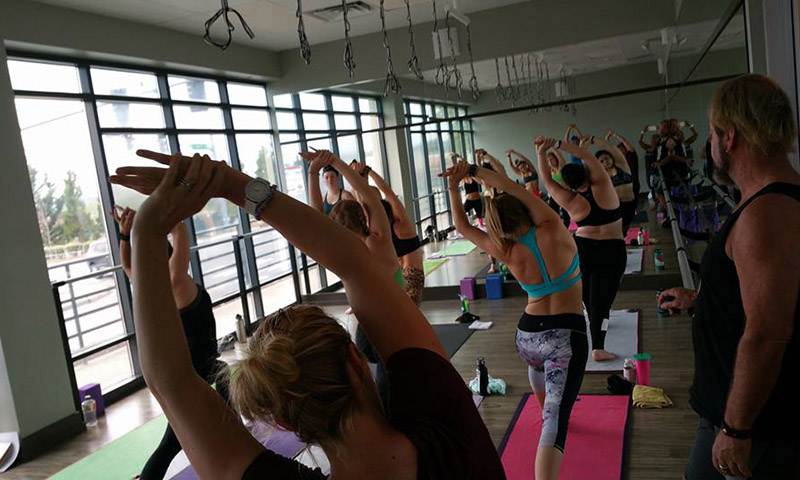 Congratulations! You aced your yoga teacher training and now you are looking for places to teach. You wonder if looking at Craigslist for jobs is the place to start. You ask yourself what your resume should say. You read bios of other teachers on your favorite studios' websites and wonder, "How did they get this gig?"
Here is some advice. As both a former yoga studio manager and the owner of a yoga studio myself, I have lots of insight. I hope it is helpful to you.
First of all, when yoga teacher training is over, immediately begin to teach yoga for free to anyone you can gather on a regular basis, exactly like a class. Your home, your apartment's commons area, your neighborhood parks, local martial arts studios or CrossFit gyms are great places. I have a theory: anywhere they teach Zumba, Jazzercise or Capoeira are perfect places to offer free classes to the members. Either way, your goal is the same: teach at the same time per week, optimally a couple times a week, to roughly the same people every week, to hone your skills and your confidence.
Ask your community for feedback. Learn their needs and meet those needs each class. Always look to improve. As a new teacher, always teach yoga to beginners who are healing their bodies. You can improve your skills dramatically this way, and you are meeting the biggest need studio owners have: teaching people who really need yoga and are intimidated by the prevalent misconceptions of yoga.
Any studio owner can find any number of yoga teachers who know how to teach yoga to experienced yogis. It is the yoga teacher who can teach the people who really need yoga that studio owners want to hire. Let that sink in. Ever speak to supermarket cashiers or baristas about yoga? They talk about a bad back, sciatic pain and then cite bad knees and "inflexibility" as the reason they cannot come to class. Do you see how many of them there are? Can you imagine how valuable you will be to a yoga studio owner if you can bring them into class, and keep them coming? Yes, yoga is a tradition and a lifestyle. But it is also an industry.
Studio owners need teachers who understand this fact. Studios need to reach, and then teach the people who are intimidated by, but really need to practice yoga. In your yoga teacher training, you received all kinds of instruction on the use of props. Think about your use of supportive dialogue that connects people personally to their practice, and never fosters indictment of their own bodies (they get enough of that in the media and their own body images). Be singularly interested in showcasing your commitment to serving all ages, all bodies, all people, of all walks of life, all the time. You can build your yoga teaching career if you focus on connecting with real life people in the community, bringing them in and keep them coming to class. Can you imagine how valuable you will be to a yoga studio owner if you demonstrate a commitment to bringing in unique visitors and creating classes they benefit from and enjoy?
Okay, say you are really ready. You have your sights set on a particular studio you want to impress. How do you go about it? Should you call the studio line and leave a voicemail with your name and phone number? Should you email your resume? How can you connect with the studio owner in a way that helps them see you are ready to join their sub list and work your way onto their schedule? The answer is: You need to go take their classes.
The bottom line here, really is the bottom line. Studio owners are looking for teachers who care about helping them grow their business. When you locate a studio where you'd like to audition, take several classes at the studio and many from the owner. Get to know their students. Ask them in the lobby what kinds of classes they like. Read their reviews on social media. Take a look around and decide what you can offer. Take the beginner yoga classes. How are they doing teaching the beginner classes? Are they well-attended? Do you have ideas as to how you can help promote that time slot and grow the class? Are you prepared with a plan that will help bring people into the studio, like offering a free community class?
After you take classes at the studio, tag the location on social media and write reviews to your network. Invite friends to attend class with you and ask them to do the same. Remember, you are showcasing your understanding that teaching yoga is a privilege and that you understand studio owners really need your support in growing the business. In the studio, clean up after yourself of course, but maybe look around. Does anything need to be restacked or cleaned, like props or mats? What an impression you would make if you showcased your commitment to Saucha.
After taking classes and understanding more about the business, introduce yourself to the owner or manager and express your appreciation for the studio. Present a resume that is skills-based and highlights marketing, customer service and sales. Let them know you have availability on weekends, evenings and early mornings and that you would love to be on their sub list. Say you are available to audition anytime. A couple days later, send a personal thank you note to the person you met and double-check that Yelp posted your glowing review.
Arrive to an audition with the sincere offer to deliver business cards and flyers to local nail salons, coffee shops, campus community boards and other local businesses. Make it clear that you are here to help. Wear a business-inspired outfit with yoga clothes underneath. A wrap dress is an essential for female teachers. You can look like Superwoman with your yoga outfit underneath your dress, ready to teach. Male teachers can all benefit from acquiring the Lululemon pants that look like slacks. Buy them for auditions. You'll look very professional and be able to move with ease. Bring your own towels for adjustments.
In an audition, be prepared with music that is universally appealing for yoga and creates a vibe without busyness. You want music that is familiar to you, but lets you teach every format you can. Be prepared to serve up yoga samples of Hatha, Power and Yin/ Nidra all in the span of 20 to 90 minutes. Showcase your adjustments that connect, correct and compliment effort. Be prepared to roll play. Be prepared to teach on the spot. Here is an example: auditions are often staged like a mock class. Are there several people there? There might be managers, karma yogis or maybe just the owner. Ask, "Who will be playing the new student, the injured student and who is the advanced student in here, so I can offer options?" If they set up the scene and come right out and tell you what they want, say it back and confirm you understand the mock class scenario. Start your music, do your best and do not "break character" until you sign off with Namaste in savasana. The very best auditions are moments when beleaguered studio managers forget they are in an audition and are treated to a lovely class in the middle of their busy day.
Always thank someone for their time. Studio owners need ten days in a week to get it all done. It is an honor to be offered a precious hour for the privilege to serve their community. Please tell them you appreciate this. Clean the mirrors in the studio after your audition, put away all the props and recycle any bottles or papers.
Every job interview ends in the important question, "Do you have any questions?" Be prepared to ask, "How can I help you here?" That will always be the best question to ask. Thank you for listening to these ideas.
I wish you the best in your search. If you have other tips, please share them in the comment section below. Namaste!